NITAAC NIH CIO-CS
CIO-CS Overview
The Chief Information Officer – Commodities and Solutions (CIO-CS) Government-wide Acquisition Contract (GWAC) is a ten (10) year Indefinite Delivery/Indefinite Quantity (IDIQ) contract with one 60-month base period from 05/01/2015 to 04/30/2020; and one 60-month option period from 05/01/2020 to 04/30/2025 under which federal government agencies may award delivery orders to acquire IT commodities and solutions.
The Department of Health and Human Services (HHS), National Institute of Health (NIH), National Institutes of Health Information Technology Acquisition and Assessment Center (NITAAC), has a requirement to provide a mechanism for the federal government to procure IT commodity solutions as they relate to health and life sciences capabilities, and general Information Technology (IT) initiatives.
Federal agencies can use this GWAC for acquiring a wide range of IT commodities and associated commodity enabling services. CIO-CS is an IDIQ contract against which federal agencies can issue delivery orders for their specific requirements. The focus of this contract is to provide government agencies with a mechanism for quick ordering of needed IT commodities and associated commodity enabling services at equitable and reasonable prices.
Ordering Information: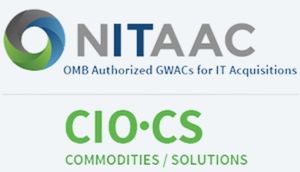 Contract Overview
Contract # HHSN316201500025W
HUBZone Certified
Small Business
Contract Resources
CIO-CS Program Manager:
Glenn Anderson
805.339.0305 x101
CIO-CS Deputy Program Manager:
Ashley Burkhart
805.339.0305 x201
Customer Service and General Ordering Inquiries:
800.800.7056
Payment terms: Net 30 day
Prompt payment discount terms: none
Anacapa Micro Products, Inc. has the expertise and resources to provide you with complete IT solutions and product-based services to meet all your specific requirements, including servers, storage, AV, cloud, networking, Telecom, software, and peripherals.